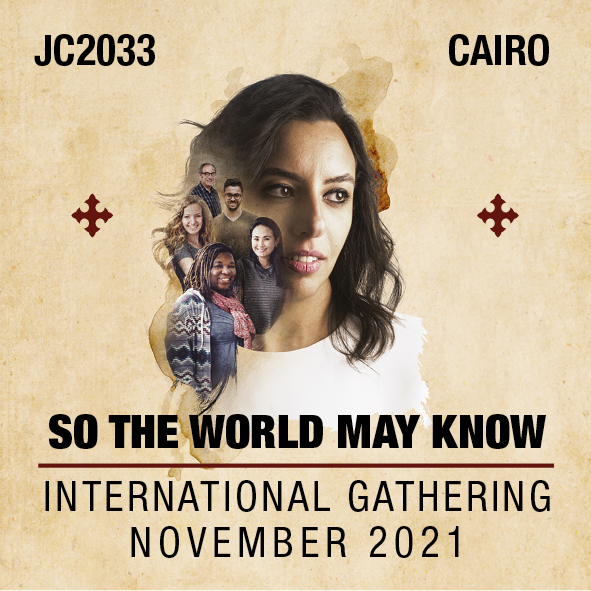 News Concerning the 2021 Global Gathering in Egypt:
Due to the current travel situation, we are rescheduling our Global Gathering to November 2021. The event will also have a more local and regional strategic focus. Stay tuned!
WHY we do this gathering?
In November 2021, Christians from different backgrounds and denominations will gather in the beautiful Koptic Monastery of Anafora for a special time of unity around the risen one, Jesus Christ. When we unite as His body together we have His promise, His command that we will experience His life, resurrection life! As we experience His love and life we will celebrate our differences, find unity in diversity, honor Christ in the other, experience restoration and reconciliation. In this climate of unity and faith we want to bless the country and its region. In addition, it will be an opportunity to welcome new ambassadors who will carry the Gospel message of the resurrection of Christ and of Christian unity.
Is God calling you to go deeper with JC2033?
Then join us from around the world. Be inspired as we continue together to deploy the strategy for multiplication on every continent. Come and partner with us in this global movement "So that the World may know ! "
Specific objectives:
Motivating and equipping (inspiring and motivating delegates to go home and spread the vision of JC2033 in very practical ways)
Multiplication of Ambassadors and Hubs
Having delegates from each continent and soon from each nation
Establishing an international community between the ambassadors
Location:
The Coptic Monastery of Anafora, Cairo-Alexandria road, Madinat Wadi An Natrun, Al Buhayrah, Egypt (about 2h drive from Cairo direction Alexandria).
Dates: November 2021 TBC.
Start time: TBC
End time: TBC
Transportation: We arrange transport with a travel Agency from Cairo to Anafora. We will not be able to take care of your transportation outside of thoses arranged transports.
Food and Lodging: The Food & Lodging is organized for us in Anafora from Monday evening to Saturday morning. Everything else will have to be arranged privately.
Program: TBC
Pricing:
Conference fees:
Country A: 200 CHF (Swiss Francs)
Country B & C 100 CHF (Swiss Francs)
List of A.B.C. countries: https://uofn.edu/nation-category-list
The conference fees are to be paid upon registration, but the latest 15 days prior to the conference to "Association JC Friends" mention Egypt:
IBAN: CH12 0900 0000 1471 9937 0
BIC: POFICHBEXXX
PAYPAL: paypal.me/JCFriends
Mention: Egypt
Adresse of the Bank:
PostFinance AG
Mingerstrasse 20
CH - 3030 Bern
Switzerland
Food & Lodging:
Anafora works on a donation basis.
This is the usual amount that they recommend as a donation:
Double room 30 EUROS/person/night,
Single room 50 EUROS/person/night.
The amount will have to be paid directly in Anafora (Euros or USD / Cash or Credit Card).
Transportation price:
We arrange transport with a travel Agency from Cairo to Anafora on Monday 8th from 12am to 7pm and return from Anafora to Cairo on Saturday 13th. We will not be able to take care of your transportation outside of those arranged transports.
The Price is12 euros one way, and 12 euros back. This is to be payed cash to the driver.