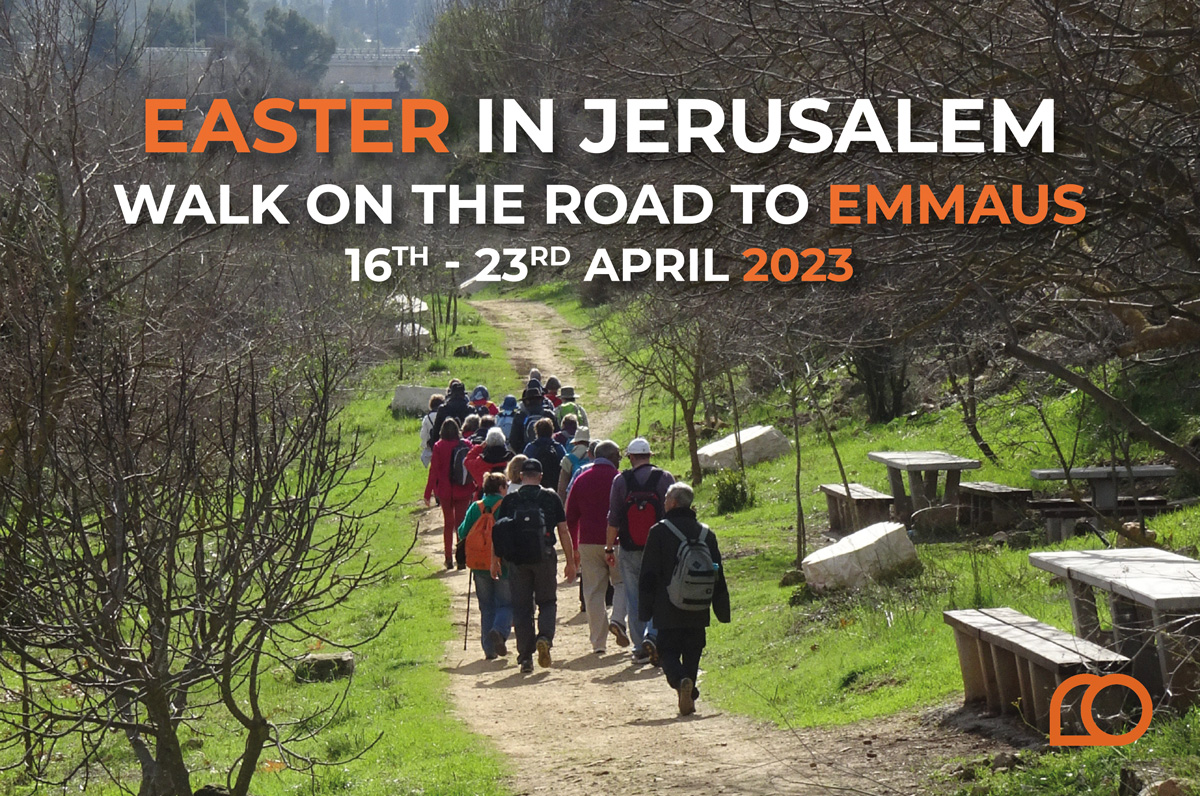 WHY?
Almost 2000 years ago, two disciples, walking between Jerusalem and Emmaus, had an encounter that changed them forever. To prepare for the celebration of the 2000th anniversary of the resurrection of Christ, JC2033 invites you to walk along this path which is so important for all Christians!
This walk will be preceded by two days in Jerusalem, in the traditional places of the events of Jesus' death and resurrection

We want to walk with Christians from Jerusalem and meet the communities on the roads to Emmaus, visiting the various places identified with Emmaus: Motza, Abu Gosh and Nicopolis

This walk will be punctuated by times of sharing and prayer

We also hope that these days will be rich in encounters between Christians from different churches and countries

Living the Easter season in Jerusalem and on the road to Emmaus is a special experience that centers us on the heart of the Christian faith. This walk will also be a spiritual renewal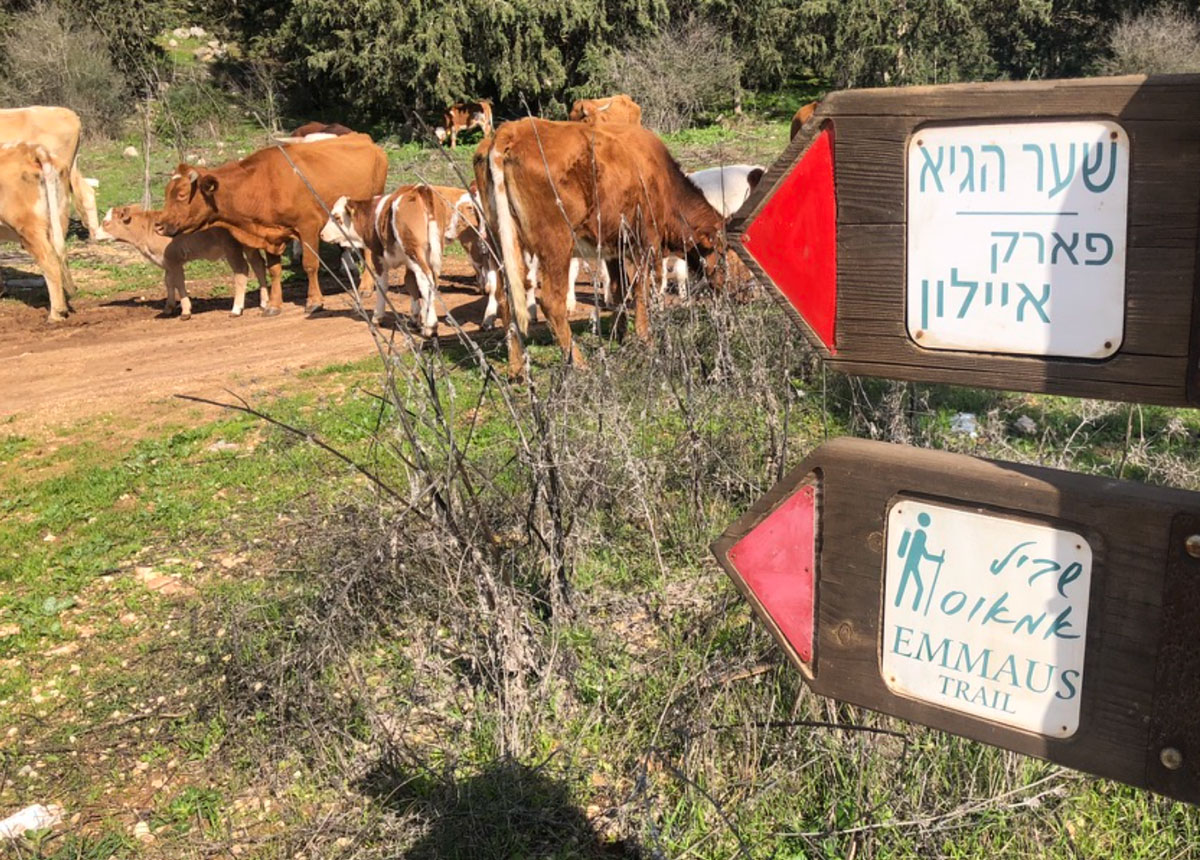 A Surprise on The Route...

PROGRAMME
Sunday 16 April 2023
Arrival at the Hotel - evening meal and first group meeting
Monday 17 April
In Jerusalem, following Jesus in his passion
Prayer at the Hermitage of Gethsemane
Meditation on the Stations of the Cross
Basilica of the Resurrection and Holy Sepulcher
Tuesday 18 April
Walk from Neve Illan to Emmaus/Nicopolis, the "Byzantine Emmaus" (14 km)
Visiting the communities at the end of the road
Wednesday 19 April
In the morning, interview with a church leader
Visit to the baptismal site near Jericho
Visit to a Christian project in Jericho
Thursday 20 April
Visit to the Abu Gosh Monastery ("the Emmaus of the Crusaders") and the Saxum Center
Walk on the Emmaus trail to Yad Hashmona (3 km)
Visit to the "Bible Garden" and "Biblical meal"
Friday 21 April
Walk along the Emmaus Trail from the "Garden Tomb" to Motza, "The Emmaus of Archeologists" (9 km)
Visit to the ancient synagogue in Motza
Saturday 22 April
Evaluation of the week, free day in Jerusalem
Sending out, at the Cenacle (Upper Room)
Sunday April 23
End of the week
PRACTICAL INFORMATION
Price of the stay: CHF 990.-

The price includes: 7 nights accommodation at the Salesian Guesthous, with half board (twin room), entrance to the sites, bus travel and guides

The price does not include drinks and lunches


Accommodation in the Salesian Guesthouse

Supplement for single room: CHF 200.-

Airplane flight is the responsibility of each participant

Formalities: passport required (valid for six months after the return date)

Cancellation insurance: participants must have personal insurance

Payment: a deposit of CHF 500.- upon confirmation. Balance to be paid before January 30, 2023 to JC2033 IBAN: CH12 0000 1471 9937 0

Cancellation: Any cancellation must be notified in writing to the organizers. Cancellation fees will be charged if the cancellation takes place after January 30, 2023

The program is subject to change depending on unforeseen events

Health and Safety measures dependent on the decisions of the authorities during this period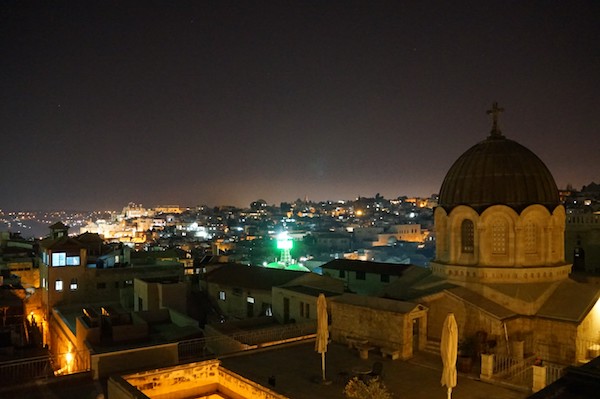 The Old City of Jerusalem

Organization and information
JC2033: +41 21 999 2033
Responsible: Martin Hoegger +41 79 774 41 49
This email address is being protected from spambots. You need JavaScript enabled to view it.
Find out more
Read about Martins trip in 2019: The chronicles of Emmaus 2019 - Blog Entry
Read about our first JC2033 tour in 2020: Chronicles of the road to Emmaus 2020 - Blog Entry
Download our: Emmaus way travel guide of 2020: