As the Jesus Celebration 2033 vision grows, we have created the JCFriends Association, which aims to provide the structure to support this growth. Thank you for praying with us for this growing movement to bring as many people as possible to a revelation of the love of God and to an experience of the transforming power of the resurrection.
Become a member!
Members of the Association JCFriends believe in the vision and are actively involved in one way or the other (for example through, prayer, promotion of the vision, living the ADN, donations, etc.).
Memberships are applied for and validated by the "Conseil".
Members pay a yearly membership fee of CHF 20.33 per person or CHF 203.30 for Members "Jubilee" and participate in the yearly AGM (Annual General Assembly).
New members of the Association get a copy of the statuts of the association, a copy of the book "Jesus Celebration 2033" for free and will receive quarterly news called eNews.
form.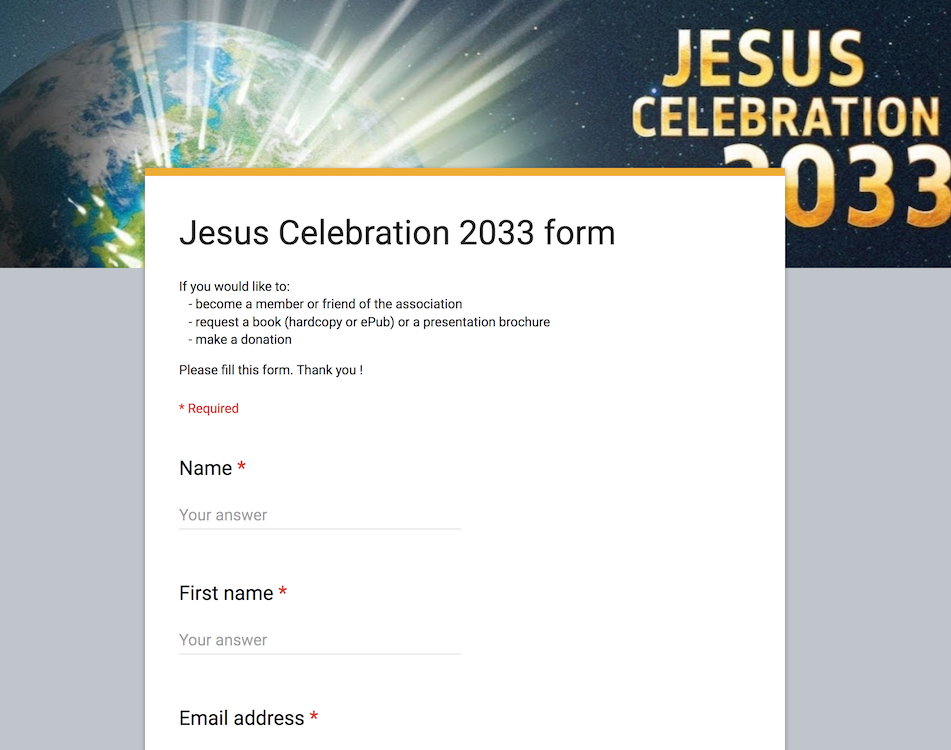 If you have any questions please contact us at: This email address is being protected from spambots. You need JavaScript enabled to view it. JCFriends Association (Switzerland) Ch. du Croset 13 CH-1180 Rolle, Switzerland